JOIN OUR MAILING LIST FOR EXCLUSIVE COUPONS!
Waterless Mobile Detailing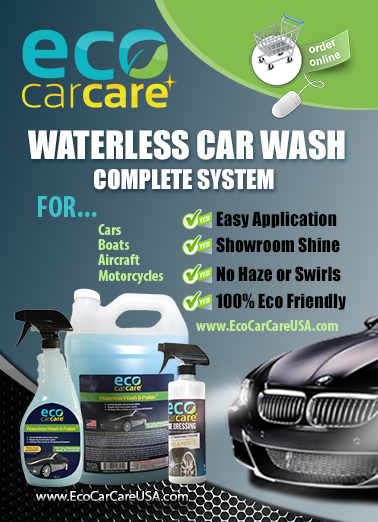 Waterless Mobile Detailing –  Eco Friendly Mobile Auto detailing is the presentation of thorough washing, restoration, and finishing of an automobile, both inside and out, to produce a show-quality level of car excellence and quality. Mobile car wash and mobile car washing is an excellent service to get to keep up with your cars appearance. Eco Car Care is currently offering mobile detailing services in Boca Raton, Fort Lauderdale, North Lauderdale, Oakland Park, Sunrise, Lauderhill, Hallandale, Margate, Coral Springs, Pompano Beach, Deerfield Beach, Tallahassee Florida, Hollywood Florida, and all of South Florida.
The Best Waterless Mobile Detailing is generally broken down into two categories: exterior and interior, or cabin. There are eco car care products and services that focus on these two areas specifically.
Exterior detailing involves cleaning and restoring or exceeding the original condition of the surface of the car's finish (usually a paint with a glossy finish), chrome trim, windows, wheels, and tires, as well as other visible components on the exterior of a vehicle. A wide array of products and techniques are used to do this based on the surface type, surface condition, or the detailer's preference. Products include, but are not limited to: detergents and acid free degreasers (to break down dirt and soil), detail clay (to remove embedded contaminates), waxes and polishes (to resurface and then improve reflectivity), as well as a variety of applicators, brushes, and drying towels.
Interior detailing involves a deep cleaning of the whole interior cabin. Automobile interiors of the last 50 years have a variety of materials used inside the cabin such as synthetic carpet upholstery, vinyl, leather, various natural fibers, carbon fiber composites, plastics, and others. Different techniques and products are used to address cleaning these. Vacuuming is standard, and steam cleaning, liquid and foam chemicals, as well as brushes may be used to remove stains on upholstery. Some nonporous surfaces may also be polished.